HOME > Medical Devices > Products >
MU-5200
MU-5200
We supply outstanding cleaning devices for medical instruments to
domestic/international medical institutes.
High speed cleaning
due to large cleaning capacity with compact size
Compact but with high cleaning capacity (MU-5200(H): 275L/ MU-5200D(HD): 296L)
MU-5200H/HD equip water/hot water reservoir tanks for shortening cleaning time.
Plasmacluster air purifier and takes care of work environment
MU-5200 series should help hospitals seeking for higher level prevention of in-hospital infection.
| Type | Ultrasonic Cleaning | Basket Storage Capacity | Door OPEN/CLOSE | Door Type | High Speed Unit | High Speed Unit + Drying Unit |
| --- | --- | --- | --- | --- | --- | --- |
| Medium Capacity | All Level(4-level racks) | Large 8pieces | Manual | Pass Through | ● | × |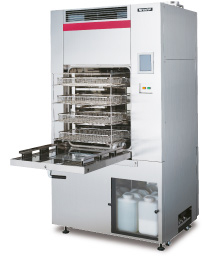 Air purifier
Plasmacluster Ion Generator, an air purifier with high reputation all over the world, is built in as a standard feature to give clean and healthy working environment.
(* Plasmacluster is a registered trademark of Sharp Corporation.)
High Speed Cleaning
High speed models : MU-5200H, MU-5200HD
High speed cleaning while keeping the cleaning efficacy.
Reduced water feed time ▶

Water reservoir tank is equipped to feed water to washing chamber upon process change.

Reduced hot water heating up time ▶

Heating up time is reduced by storing hot water in Reservoir Tank.

Reduced drainage time ▶

Drainage time is reduced by controlling drainage path.

※ Depends on the diameter of drain pipe.
Automatic operation
Load items for cleaning on a basket or a rack, and put them into the device. Choose a Cleaning Program and start: The device does everything else through the end.
The risk of crossover infection is minimal due to the reduced opportunity of touching items. You are also free from troublesome dosing of detergent and antirust lubricant.
20 different cleaning programs can be set

Finger touch TFT color LCD panel
Operation or setting parameters can be done while viewing the panel.
For safety, abnormal condition is alarmed by a buzzer sound, and the operation is automatically stopped.
Powerful Dual Cleaning
High temperature disinfection, powerful jet washing, and precise 1,200W ultrasonic cleaning are fulfilled.
Appropriate cleaning processes can be set depending on the types, shapes and contamination level of instruments, dedicating to high efficient cleaning.
▲ Jet Washing with warm water

Contaminants are cleaned with detergent and jet cleaning fluid from rotating spray nozzles

▲ 1,200W Ultrasonic Cleaning

Each surgical instruments with adhered protein or blood is precisely cleaned in all levels.

▲ Jet Washing with warm water + Ultrasonic Cleaning

Use upper levels for jet washing and the rest for ultrasonic cleaning is possible depending on items or contamination levels. (* Three liquid levels can be set: Full, 1/2 and 1/4.)
Large Capacity 286L
With the four-level rack, eight baskets can be loaded at once.
Shelf removable rack types (* flexibility of levels: Three to Two level rack)
Wire baskets for sterilization containers can be used.
Pass Through Type for prevention of Hospital Infection
Pass through structure distinctly segregates the soiled and clean areas.
Easy Plumbing with the use of flexible hose
Cost of replacing old machine or installing new machine is low.
For more efficient cleaning (* Options before shipment)
For utilizing heated steam: Steam heating type
For collecting cleaning data via Ethernet: Cleaning Monitoring System
Temperature Recorder
Typical cleaning processes
(for the case of four-level instrument rack to clean surgical instruments)
Pre-Cleaning/Cleaning

Jet Washing with warm water
Detergent is automatically dosed.
Removal of attached contaminants on the instruments by Jet Washing

US Cleaning

1,200W Ultrasonic Cleaning
Detergent is automatically dosed.
Ultrasonic Cleaning is available for Full, 1/2 and 1/4 levels of the rack.

Rinsing

Jet Washing with warm water

High-temp disinfection

Disinfection with hot water

Antirust Lubrication

Antirust Lubrication is automatically dosed.
Lubricant is automatically dosed

Drying

Efficient and speedy Drying with hot air
Specifications
Dimensions (mm)
MU-5200(H) : W1,002 x D767 (D1,441 with a door open) x H1,976
MU-5200D(HD): W1,002 x D822 (D2,170 with a door open) x H1,976
Weight (kg)
MU-5200 : 515 (when operating 765) MU-5200D : 540 (when operating 790)
MU-5200H: 565 (when operating 865) MU-5200HD: 590 (when operating 890)
Required Utilities
Power Supply
MU-5200(D) : 3-phase 220V, min. 15kVA (min. 50A breaker) Rated Capacity: 12kVA MU-5200H(HD): 3-phase 220V, min. 18kVA (min. 50A breaker) Rated Capacity: 15kVA
Water Supply
MU-5200(D) : 15A piping (SGP with a stop valve) 0.1-0.2MPa (min. 40L/min) MU-5200H(HD): 20A piping (SGP with a stop valve) 0.1-0.2MPa (min. 40L/min)
Hot Water Supply
MU-5200(D) : 15A piping (SGP with a stop valve) 0.1-0.2MPa (min. 40L/min) MU-5200H(HD): 20A piping (SGP with a stop valve) 0.1-0.2MPa (min. 40L/min)
Pure Water (Option)
MU-5200(D) : 15A piping (SUS with a stop valve) 0.1-0.2MPa (min. 40L/min) MU-5200H(HD): 20A piping (SUS with a stop valve) 0.1-0.2MPa (min. 40L/min)
Drainage
MU-5200(D)/MU-5200H(HD): 40A piping (SGP) 0.1-0.2MPa, min. 60L/min, (Max temperature of drained liquid: 93C)
Exhaust
150mm diameter,3-5m3/min suction ventilator /td>
Operation / Monitor Display
LCD control terminal (TFT color LCD)
Cleaning End Display
Buzzer and blinking Finished message
Tank Capacity
MU-5200(H) : 275L MU-5200(HD) : 294L
Tank Material
Stainless steel : SUS304
Shower Pump
Output: 1.5kW
Water supply /drainage
Automatic
Cleaning operation
20 programs can be preset
Cleaning mode
Pre-Cleaning→Cleaning→High-temp Cleaning→Ultrasonic Cleaning→Rinsing→High-temperature disinfection→Antirust Lubrication→Drying (Single operation of each process can be set)
High Frequency Output
Max. 1,200W, 40kHz (bolted transducer)
Usable Basket (mm)
Max. W520 x D255 x H50 Up to 8 units (when four–level rack is used)
Contact Information : Lee, Won-Jong Senior Manager, System Business Team 82-2-833-2521 (Ext. 291)