HOME > Medical Devices > Products >
MU-20(Dental Instrument Cleaner)
MU-20(Dental Instrument Cleaner)
We supply outstanding cleaning devices for medical instruments to
domestic/international medical institutes.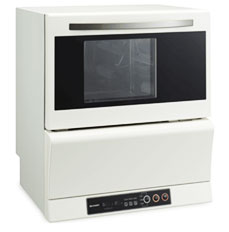 Automatic cleaning: Reducing the risk of infection
2-Way Cleaning: Precise cleaning and Desalinization available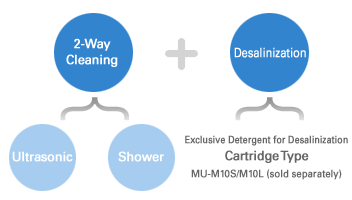 Employing manual cleaning for dental instruments?
Manual cleaning may be troublesome and takes time with having fear of secondary infection.
MU-20 automatically cleans dental instruments, so that secondary infection can be prevented from manual cleaning.
Two way cleaning with ultrasonic and shower: cleaning efficacy is not affected by the shape of dental instruments
Detergent cartridge with easy replacement.
Exclusive instrument rack that accommodates typical instruments set for treating 7 patients.
Instruments can be cleaned completely in 30min(standard mode).
Automatic cleaning reduces injury of cleaning staffs and improves cleaning efficacy.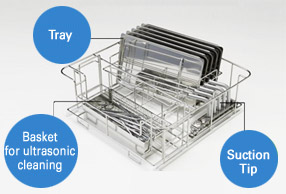 Select a Cleaning Program and press Start key. No additional task needed upon completion.
Simple instruction
Two cleaning program (Standard/Powerful) + Drying
Operation Display: Time Left, Detergent Left, Cleaning Status

Desalinization with exclusive detergent, Precise Cleaning with minor stain
Two way cleaning with 100W Ultrasonic and Shower: Prevents poor cleaning and variations in cleaning
Two way cleaning with ultrasonic(complicated instruments) and shower(trays): optimum cleaning is not affected by the shape of the items.
Automatic Cleaning (for 7 patients)
Standard Cleaning Program

Scaler(about 50 pieces): Ultrasonic (Others: mirror, tweezers, etc.)
Tray(7 pieces), Suction Tip(7 pieces): Shower * Suction Tip: possible for cleaning inside of the machine
Automatic detergent dosing from the cartridge * 10 cleaning cycles per a cartridge (sold separately)
Drying process is selectable, as necessary
Compact and Easy Installation
MU-20 is a size of a dishwasher which can be installed in existing sink.
Ground the device and plug into 100V AC outlet.
Water supply can be used as tap water with a simple tap construction.
Specifications
Dimensions (mm)
W550 x D462 (D757 with the door open) x H640 (Height includes adjuster at the bottom of the device)
Weight
Approx. 56kg
Required Utilities
Power
100Vac (Max. 1,200W) (a circuit breaker is built in)
Water
Tap Water (Connected to faucet with a hose) Water pressure: 0.1~0.3MPa (1~3kgf/cm2)
Drainage
Drainage such as sink (Connected with a hose)
Controls and Monitor Display
Power key, Program key and Start key 8 segment LED for Time Left and Detergent Left
Chamber Material
Stainless Steel
Shower Pump
Output rating: 84.5W
Water Feed/Drain
Automatic. Maximum water feed set temperature: 50℃
Cleaning Program
Powerful/Standard/Drying
Cleaning Process
Pre-Cleaning → Cleaning → Rinsing → Drying (option)
Drying Time
30min., 60min. or 90min. (Default setting = 60 min.)
High Frequency Output
Max100W 35kHz
Items for Cleaning
Dental instruments, Tray (7pcs), Suction tip (7pcs)
Detergent (Sold separately)
Exclusive Detergent Cartridge – MU-M10S/M10L (sold separately)
Accessories
Rack (incl. basket for ultrasonic cleaning and stand for trays) x 1 Water supply hose (1.5m) x 1, Drain hose (1.5m) x 1 Instruction Manual x 1
Contact Information : Lee, Won-Jong Senior Manager, System Business Team 82-2-833-2521 (Ext. 291)